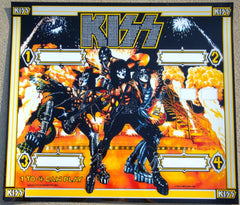 1978 AUCOIN MANAGEMENT, INC. ORIGINAL "KISS PINBALL MACHINE BACK GLASS REPLACEMENT PART!" MINT!
KISS 1978 AUCOIN MANAGEMENT, INC. ORIGINAL U.S./CANADA ONLY
"KISS PINBALL MACHINE BACKGLASS REPLACEMENT PART"
*(Replacement playfields, and replacement backglass' were produced for a limited time in the U.S back in the mid 90's)
*Manufactured identical to the original BUT with an unbreakable poly-type flexible material. This item is thick, and is made to replace any broken or damageed KISS Pinball Machine Backglass. The idea is that you insert this over a regular cut piece of glass, and the back lighting shines through just as good (if not better) than the original! Transparent slots are left for the 4 scoreboards to project through the piece! I've seen this on someones machine and it actually looks better and brighter than the original. Original KISS Pinball Machine Backglasses are usually starting around $400.00 on Ebay and at the KISS Expos. The original is difficult to ship especially overseas, and is very likely to chip or break in transit. This items is made of unbreakable and uncrackable material and can ship as a rolled item! If your looking to make a awesome restore on your macchine, then think about this version 1st!
***Measures to the 'Exact dimensions of the Original!
Overall quality collectors rating? MINT!
*PICTURES ARE ACTUAL ITEM - FLAWLESS!
Item Description: This is a Mega-Rare 1978 AUCOIN MANAGEMENT, INC. U.S./CANADA ONLY "KISS PINBALL MACHINE REPLACEMENT BACKGLASS PART!" THIS IS MADE FROM HEAVY POLY MATERIAL WHICH IS FLEXIBLE, AND HOLDS IT'S ORIGINAL COLORS LONGER EVEN UNDER HARSG HEAT OR COLD! THIS ONE IS JUST LIKE BUYING A BRAND NEW BACKGLASS, ONLY YOU'LL NOT HAVE TO WORRY ABOUT IT BREAKING! OVERALL CONDITION: 10/10! COMES SHIPPED TO YOU ROLLED INSIDE PROTECTIVE DOUBLE POSTER TUBES WITH TONS OF BUBBLE WRAPPING, AND INSURANCE! COMES FROM A SMOKE FREE HOME! THIS IS A HTF KISS COLLECTABLE! WE HAVE SOME OF THE BEST QUALITY KISS PINBALL MACHINE PARTS ON THE WEB!