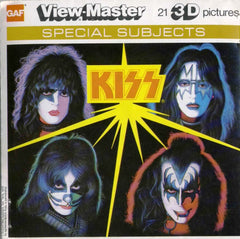 1978 MEGA-RARE U.S. GAF CORPORATION SET OF (3) (SEALED) "3-D VIEWMASTER REELS" COMPLETE! MINT!
 1978 ORIGINAL U.S. OFFICIAL AUCOIN MANAGEMENT,, INC. 'GAF CORPOARATION' 
(SEALED) "KISS VIEWMASTER REELS!" COMPLETE with INSTRUCTIONS!
Features: (21) 3-D Pictures on (3) Disc Photo Reels!
MINT (SEALED) CONDITION!
 *SCAN IS ACTUAL COVER - FLAWLESS!
 Item Description: This is a Mega-Rare 1978 U.S. ORIGINAL OFFICIAL AUCOIN MANAGEMENT, INC. 'GAF CORPORATION' "KISS VIEWMASTER REELS" COMPLETE WITH INSTRUCTIONS! THIS SET IS STILL IN IT'S ORIGINAL SEALED STATE FROM THE FACTORY BACK IN 1978! ONE OF THE MOST SOUGHT ATER KISS ITEMS FROM THE 1970'S! THIS IS ONE OF THOSE OLDER ITEMS THAT IS VERY IN DEMAND! ALL OF OUR ITEMS COME SHIPPED TO YOU INSIDE PROTECTIVE SHEETS, PLACED NEXT TO A ACID-FREE BACKER BOARD, BUBBLE WRAPPED, AND THEN PLACED CAREFULLY INSIDE A STURDY BOX OR CARDBOARD MAILER FOR EXTRA PROTECTION! COMES FROM A SMOKE FREE HOME! THIS IS A HTF KISS COLLECTABLE! WE HAVE SOME OF THE BEST QUALITY KISS VIEWMASTERS ON THE WEB!