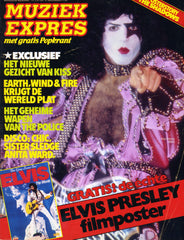 1979 MEGA-RARE DUTCH KISS "MUZIEK EXPRES" SEPTEMBER EDITION MAGAZINE WITH GIANT ELVIS POSTER STILL ATTACHED! EX+++
                                   KISS 1979 MEGA-RARE HTF DUTCH 
"MUZIEK EXPRES" WITH PAUL STANLEY COVER!"
EX+++ (TIGHT SPINE) CONDITION!
*Original Item...No Repos!
 *PHOTO IS ACTUAL MAGAZINE - AWESOME!
 Item Description: This is a Mega-Rare 1979 DUTCH "MUZIEK EXPRES" MAGAZINE WITH ELVIS POSTER STILL ATTACHED! WRITTEN IS DUTCH LANGUAGE! B/W & COLOR PHOTOS INSIDE, AND BIG KISS ARTCLE! VERY COOL! EX+++ CONDITION! 100% COMPLETE! VERY FEW FOR SALE AT EXPOS, AND EBAY BECAUSE THEY ARE SO COOL TO OWN!  *ALL OF OUR ITEMS COME SHIPPED TO YOU INSIDE PROTECTIVE SHEETS, PLACED NEXT TO A ACID-FREE BACKER BOARD, BUBBLE WRAPPED, AND THEN PLACED CAREFULLY INSIDE A STURDY BOX OR CARDBOARD MAILER FOR EXTRA PROTECTION! COMES FROM A SMOKE FREE HOME! THIS IS A HTF KISS COLLECTABLE!