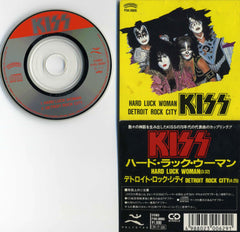 1987 RARE JAPAN ONLY "3" HARD LUCK WOMAN/DETROIT ROCK CITY" 2-TRACK CD!
KISS 1987 ORIGINAL JAPANESE ONLY
"KISS HARD LUCK WOMAN/DETRIOT ROCK CITY" 3 INCH 2-TRACK CD!
***3"JAPANESE CD HAVE NEVER BEEN REPRODUCED, OR RE-RELEASED!
***THIS IS THE ORIGINAL VERSION!
"PURCHASED FROM 'ERIC CIOLINO' AT THE 2012 NY/NJ KISS EXPO!
NrMINT CONDITION!
*Original Item...No Repos!
*SCAN IS ACTUAL ITEM - EXCELLENT!
Item Description: This is a Mega-Rare 1987 JAPANESE ONLY "HARD LUCK WOMAN/DETROIT ROCK CITY" 2-TRACK 3 INCH CD! EXTREMELY LIMITED NUMBER PRODUCED ONLY IN JAPAN. COMES IN IT'S ORIGINAL CARDBOARD/PLASTIC FOLDED CASE. THE 3 INCH FORMAT CD WAS DESIGNED TO FIT INSIDE YOUR POCKET FOR EASY TRANSPORTING, BUT THIS SMALL FORMATTED CD'S NEVER CAUGHT ON IN AMERICA. JAPAN IS THE ONLY COUNTRY THAT PRODUCED KISS 3 INCH CD'S. THERE WERE ABOUT 8-10 TITLES PRODUCED. I WILL HAVE 3-5 OF THESE KISS TiTLES UP ON MY AUCTIONS VERY SOON! THIS IS ONE OF THOSE CD'S THAT IS VERY IN DEMAND! I PURCHASED SEVERAL VINTAGE ITEMS FROM ERIC C. AT THIS PAST 2012 NY/NJ KISS EXPO. ERIC WAS THERE AS A DEALER SELLING AN AMAZING KISS COLLECTION! ALL THE OTHER DEALERS WERE ALL OVER ERIC AND HIS TABLES! IT WAS AN AMAZING COLLECTION TO SAY THE LEAST! I WAS FORTUNATE TO COME AWAY WITH SOME GREAT ITEMS THAT I'LL BE PLACING HERE. *ALL OF OUR ITEMS COME SHIPPED TO YOU INSIDE PROTECTIVE SHEETS, PLACED NEXT TO A ACID-FREE BACKER BOARD, BUBBLE WRAPPED, AND THEN PLACED CAREFULLY INSIDE A STURDY BOX OR CARDBOARD MAILER FOR EXTRA PROTECTION! COMES FROM A SMOKE FREE HOME! THIS IS A HTF KISS COLLECTABLE!