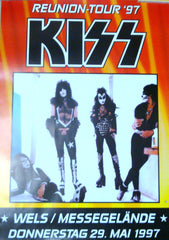 1997 Original German Import (ILLEGAL & NOT USED)"1997 KISS REUNION ALIVE WORLDWIDE POSTER FOR WELS/MESSEGELANDE, AUSTRIA MAY 29,1997 CONCERT! UNBELIEVABLE! MINT!
KISS 1997 ORIGINAL GERMAN IMPORT
"1997 KISS REUNION ALIVE WORLDWIDE POSTER FOR 'WELS/MESSEGELANDE, AUSTRIA' MAY 29, 1997"!
***THIS IS THE REAL DEAL! THIS POSTER WAS PRINTED IN GERMANY! THE PRINTER MADE AN OBVIOUS ERROR AND USED THE ILLEGAL REGULAR KISS LOGO. THE PROMOTER ORDERED THESE POSTERS DESTROYED, AND REPRINTED. THANKS TO MY GERMAN FRIENDS (ANDY FREIDERMAN) FOR SAVING US COLLECTORS SOME BEFORE THEY ALL GOT BURNED. THE NURBURGRING, AND THE WEILS, AUSTRIA CONCERT POSTERS WERE MADE BY THE SAME PRINTER IN GERMANY. I HAVE A LIMITED SUPPLY OF BOTH. SINCE THESE WERE ILLEGAL TO USE, AND ORDERED TO BE DESTROYED, AND VERY FEW ESCAPED THE FIRE.....MAKES THIS A VERY RARE POSTER FOR COLLECTORS. JUST AS THE 1980 BREMEN, GERMANY POSTERS WERE MADE ILLEGALLY, AND THEN DESTROYED.....SO WERE THESE. GET ONE BEFORE THEY ARE ALL GONE!
MINT (UNUSED) CONDITION!
*Measures approximately 24" x 36"!!!
*Original Item...No Repos!
*SCAN IS ACTUAL ITEM - PERFECT!
Item Description: This is a Mega-Rare GERMAN IMPORT "1997 KISS REUNION ALIVE WORLDWIDE POSTER FOR WELS/MESSEGALANDE, AUSTRIA ON MAY 29, 1997!" I PURCHASED SEVERAL OF THESE FROM MY FRIENDS IN GERMANY. LIMITED NUMBER AVAILABLE! NEW LOOKING, AND MINT CONDITION AS THE DAY THEY WERE MADE! YOU'LL NEVER SEE THESE AGAIN ONLINE FOR SALE! VERY RARE! *ALL OF OUR ITEMS COME SHIPPED TO YOU INSIDE PROTECTIVE SHEETS, PLACED NEXT TO A ACID-FREE BACKER BOARD, BUBBLE WRAPPED, AND THEN PLACED CAREFULLY INSIDE A STURDY BOX OR POSTER TUBE MAILER FOR EXTRA PROTECTION! COMES FROM A SMOKE FREE HOME! THIS IS A HTF KISS COLLECTABLE! WE HAVE SOME OF THE BEST QUALITY KISS POSTER ON THE WEB!