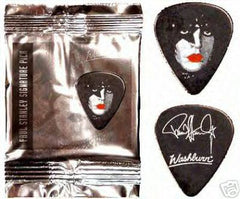 1998 "PAUL STANLEY" (Sealed) WASHBURN GUITAR PICK!" MINT!
KISS 1998 "PAUL STANLEY WASHBURN GUITARS"
Personalized Guitar Pick!
BLACK W/Face Makeup and Washburn Logo/Paul's autograph in WHITE
DEAD MINT (Sealed in Bag!) CONDITION!
*Original Item...No Repos!!!
Item Description: This is a Mega-Rare ORIGINAL 1998 "PAUL STANLEY WASHBURN" GUITAR PICK!" ONE SIDE HAS PAUL'S MAKEUP FACE EMBOSSED, AND THE OTHER SIDE HAS AN EMBOSSED PAUL STANLEY SIGNATURE AND A WASHBURN LOGO! 100% GUARANTEED ORIGINAL! CONDITION IS MINT! *ALL OF OUR GUITAR PICKS COME SHIPPED TO YOU INSIDE A PROTECTIVE CARDBOARD COIN HOLDER, AND THEN INSIDE A MYLAR 20-SLOT PROTECTIVE SHEET, PLACED NEXT TO A ACID-FREE BACKER BOARD, BUBBLE WRAPPED, AND THEN PLACED CAREFULLY INSIDE A STURDY BOX OR CARDBOARD MAILER FOR EXTRA PROTECTION! COMES FROM A SMOKE FREE HOME! THIS IS A HTF KISS COLLECTABLE!