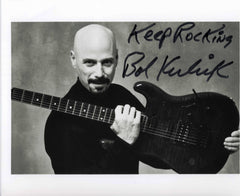 1998 PERSONALLY AUTOGRAPHED "BOB KULICK" B/W GLOSSY 8" x 10" PHOTO! MINT!
1998 PERSONALLY AUTOGRAPHED COLOR 8" x 10"
"BOB KULICK" B/W GLOSSY PHOTO!
*Autographed: "Keep Rockin' Bob Kulick"
*EXCLUSIVELY SIGNED AT 'THE ATLANTA KISS EXPO' 2-1998
MINT CONDITION!
Item Description: This is a Mega-Rare 1998 "PERSONALLY AUTOGRAPHED B/W GLOSSY 8" x 10" PHOTO OF "BOB KULICK!" BOB HAS ALWAYS BEEN KNOWN AS KISS' 5th MEMBER WITH LEAD GUITAR WORK ON ALIVE II's SIDE 4, AND CREATURES OF THE NIGHT LP's! BOB WAS PAUL STANLEY'S LEAD GUITARIST IN PAUL'S 1989 SOLO CLUB TOUR! BOB OWNS HIS OWN STUDIO NOW A DAYS....AND BOB'S STUDIO IS WHERE PAUL RECORDED "LIVE TO WIN"! WE LOVE BOB! A GREAT EXPO GUEST! *ALL OF OUR AUTOGRAPHS COME SHIPPED TO YOU INSIDE PROTECTIVE SHEETS, PLACED NEXT TO A ACID-FREE BACKER BOARD, BUBBLE WRAPPED, AND THEN PLACED CAREFULLY INSIDE A STURDY BOX OR CARDBOARD MAILER FOR EXTRA PROTECTION! COMES FROM A SMOKE FREE HOME! THIS IS A HTF KISS COLLECTABLE! WE HAVE SOME OF THE BEST 'PREMIER' AUTOGRAPHS ON THE WEB!