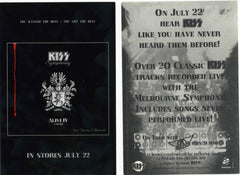 2003 "KISS THE SYMPHONY/ALIVE IV" Postcard Sized Promotional-Only 2-Sided Sticker! MINT!
2003 ORIGINAL U.S. PROMOTIONAL-ONLY
"KISS THE SYMPHONY/ALIVE IV" 2-SIDED STICKER!
MINT (UNUSED) CONDITION!
*MEASURES APPROXIMATELY: 4" x 6"
*SCAN IS ACTUAL ITEM - FLAWLESS!
Item Description: This is a Rare 2003 U.S. ONLY "KISS THE SYMPHONY/ALIVE IV" PROMOTIONAL-ONLY STICKER! THIS STICKER MEASURES 4" x 6! WE CAME ACCROSS A "WAREHOUSE" FIND ON THESE, AND HAVE A DOZEN LEFT! ALL OF OUR ITEMS COME SHIPPED TO YOU INSIDE PROTECTIVE SHEETS, PLACED NEXT TO A ACID-FREE BACKER BOARD, BUBBLE WRAPPED, AND THEN PLACED CAREFULLY INSIDE A STURDY BOX OR CARDBOARD MAILER FOR EXTRA PROTECTION! COMES FROM A SMOKE FREE HOME! THIS IS A HTF KISS COLLECTABLE! WE HAVE SOME OF THE BEST KISS STICKERS ON THE WEB!