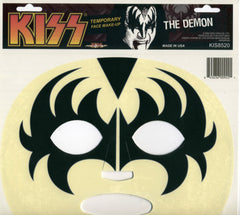 2009 OOP "GENE SIMMONS" TEMPORARY FACE MAKE-UP! COMPLETE WITH INSTRUCTIONS! MINT!
                                             2009 ORIGINAL U.S. OOP
                     "GENE SIMMONS TEMPORARY FACE MAKE-UP!"
*Contains IInstructions on back!

MINT (SEALED) CONDITION!

SIZE: ONE SIZE FITS ALL
HTF - Out Of Production!
 *Original Item...No Repos!
 *SCAN IS ACTUAL ITEM - AWESOME!
Item Description: This is a Mega-Rare 2009 U.S. "FUN COSTUMES" "GENE SIMMONS TEMPORARY FACE MAKE-UP"! FEATURES GIANT FACE TATTOOS THAT WASHES OFF WITH SOAP! (SEALED) BRAND NEW CONDITION! 2009 KISS Catalog LTD. ONE OF THE BEST I'VE EVER OWNED!* ALL OF OUR COSTUMES ARE 100% COMPLETE, AND COME SHIPPED TO YOU INSIDE PROTECTIVE MYLARRESEALABLE BAGS, PLACED NEXT TO A ACID-FREEBACKER BOARD, BUBBLE WRAPPED, AND THEN PLACED CAREFULLY INSIDE A STURDY BOX OR CARDBOARD MAILERFOR EXTRA PROTECTION! COMES FROM A SMOKE FREEHOME! THIS IS A HTF KISS COLLECTABLE! WE HAVE THE BEST QUALITY KISS COSTUMES ON THE WEB!