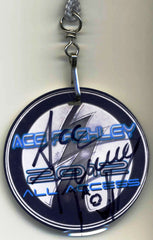 2012 ORIGINAL OFFICIAL U.S. 'ACE FREHLEY' PERSONALLY AUTOGRAPHED "ANOMOLY TOUR 2012 ALL ACCESS LAMINATE PASS" MINT!
 2008 MEGA-RARE HTF U.S. OFFICIAL
(PERSONALLY AUTOGRAPHED BY ACE FREHLEY)
"ACE FREHLEY 'ANOMOLY TOUR' ALL ACCESS 2012 LAMINATE PASS!"
*SIGNED IN BLACK SHARPIE!
***THIS IS AN ACTUAL LAMINATED TICKET PASS GIVEN OUT TO FRIENDS, AND FAMILY TO GET YOU 'ALL ACCESS' ON THE 2012 'ANOMOLY TOUR OF THE WORLD!
"THIS IS FROM MY OWN COLLECTION!
MINT CONDITION! COMES WITH THE ORIGINAL SILVER LANYARD!
***NOT A REPRODUCTION - THIS IS THE REAL DEAL!
*PHOTO IS ACTUAL PASS - AWESOME!
*Original Item...No Repos!
 Item Description: This is a Mega-Rare 2012 U.S. OFFICIAL PERSONALLY AUTOGRAPHED "ACE FREHLEY ANOMOLY TOUR ALL ACCESS 2012 LAMINATE PASS! VERY COOL! SIGNED IN BACK SHARPIE! MINT CONDITION! VERY FEW OF THESE EXIST, AND THIS ONE IS FROM MY OWN COLLECTION! I HAVE ONE OF THESE AVAILABLE ON OUR WEBSITE! THESE ARE IN VERY BIG DEMAND! *ALL OF OUR ITEMS COME SHIPPED TO YOU INSIDE PROTECTIVE SHEETS, PLACED NEXT TO A ACID-FREE BACKER BOARD, BUBBLE WRAPPED, AND THEN PLACED CAREFULLY INSIDE A STURDY BOX OR CARDBOARD MAILER FOR EXTRA PROTECTION! COMES FROM A SMOKE FREE HOME! THIS IS A HTF KISS COLLECTABLE!  WE HAVE SOME OF THE BEST QUALITY KISS PASSES ON THE WEB!