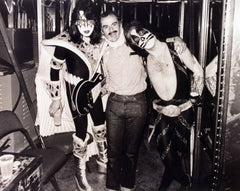 1979 KISS BACKSTAGE "BILL AUCOIN W/A&P PROMO B/W GLOSSY PHOTO 8" x 10" MINT!
KISS 1979 BACKSTAGE "BILL AUCOIN W/PETER & ACE BACKSTAGE
B/W GLOSSY PRESS PHOTO"
Promotional-Only Not For Sale!
DEAD MINT CONDITION!
*Reproduction.....Created for Bill to sign at KISS Expos!!!
Item Description: This is a Mega-Rare REPRODUCTION 1979 U.S. "BILL AUCOIN WITH PETER AND ACE BACKSTAGE B/W GLOSSY PRESS 8" x 10" PHOTO"! WE MISS BILL! A GREAT FRIEND & ADVISOR! PRODUCED FOR BILL AUCOIN TO SIGN AT THE ATLANTA & CHARLOTTE KISS EXPOS BACK IN THE 1990's-2000's! 100% GUARANTEED REPRODUCTION ITEM! VERY FRAMABLE! CONDITION IS MINT! *ALL OF OUR PHOTOS COME SHIPPED TO YOU INSIDE A PROTECTIVE RESEALABLE MYLAR PROTECTIVE SLEEVE, PLACED NEXT TO A ACID-FREE BACKER BOARD, BUBBLE WRAPPED, AND THEN PLACED CAREFULLY INSIDE A STURDY BOX OR CARDBOARD MAILER FOR EXTRA PROTECTION! COMES FROM A SMOKE FREE HOME! THIS IS A HTF KISS COLLECTABLE!