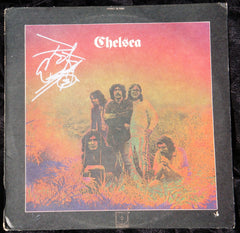 1970 MEGA-RARE (PERSONALLY AUTOGRAPHED) CHELSEA DEBUT LP WITH PETER CRIS ON DECCA RECORDS! EX+++
 1970 HTF MEGA-RARE PETER CRIS RECORDING DEBUT
"CHELSEA" LP ON DECCA RECORDS! 
*PERSONALLY AUTOGRAPHED BY PETER CRISS ON SATURDAY, MARCH 23, 2013 in CHARLOTTE, N.C. AT THE 'MAD MONSTER PARTY' HORROR EXPO!
LP JACKET CONDITION = 8/10
VINYL CONDITION = 10/10 (LIKE NEW - UNPLAYED CONDITION)
OVERALL CONDITION = EX+++!
 Item Description: This is a Mega-Rare ORIGINAL (PERSONALLY AUTOGRAPHED) "CHELSEA" S/T DEBUT LP ON DECCA RECORDS. FEATURES PETER CRIS ON DRUMS/VOCALS!  VERY RARE IN EX+++ CONDITION. THIS PIECE OF KISS VINYL IS VERY VERY SOUGHT AFTER WORLDWIDE! THE COVER HAS A TACK HOLE THROUGH THE BOTTOM RIGHT CORNER, AND A SMALL BENT CORNER ON THE LOWER LEFT AND UPPER RIGHT. THE VINYL IS PERFECT! LOOKS TO NEVER HAVE BEEN PLAYED! OVERALL THE BEST ONE I'VE EVER OWNED! COLORS ON LP ARE VIVID AND NOT FADED! NO RINGWEAR! VINYL CONDITION LOOKS TO BE MINT! NO SCRATCHES! 100% GUARANTEED ORIGINAL! *ALL OF OUR ITEMS COME SHIPPED TO YOU INSIDE PROTECTIVE SHEETS, PLACED NEXT TO A ACID-FREE BACKER BOARD, BUBBLE WRAPPED, AND THEN PLACED CAREFULLY INSIDE A STURDY BOX OR CARDBOARD MAILER FOR EXTRA PROTECTION! COMES FROM A SMOKE FREE HOME! THIS IS A HTF KISS COLLECTABLE!