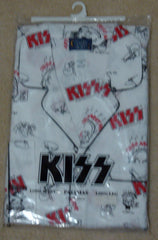 1998 KISS MEGA-RARE U.S.(SEALED) OFFICIAL KISS CATALOG, LTD. "KISS PAJAMAS" MINT!
 1998 KISS HTF ORIGINAL  KISS CATALOG, LTD. U.S.
"KISS PAJAMAS"!
"PURCHASED FROM 'ERIC CIOLINO' AT THE 2012 NY/NJ KISS EXPO!
 MINT (SEALED) CONDITION!
PRODUCED BY: STARRY NIGHTS
SIZE: SMALL/MEDIUM
*Original Item...No Repos!
*Photo is actual item!
 Item Description: This is a Mega-Rare U.S. 1998 KISS CATALOG, LTD. (SEALED)"KISS PAJAMAS"! VERY COOL!  COLORS ARE VERY STRONG! NEVER OPENED! SIZE: SMALL/MEDIUM! SHIRT COMES WITH COLLAR & LONG SLEEVES, AND LONG PANTS! VERY GOOD QUALITY! VERY FEW FOR SALE AT EXPOS, AND EBAY BECAUSE THEY ARE SO COOL TO OWN! THESE ARE IN VERY BIG DEMAND! I PURCHASED SEVERAL VINTAGE ITEMS FROM ERIC C. AT THIS PAST 2012 NY/NJ KISS EXPO. ERIC WAS THERE AS A DEALER SELLING AN AMAZING KISS COLLECTION! ALL THE OTHER DEALERS WERE ALL OVER ERIC AND HIS TABLES! IT WAS AN AMAZING COLLECTION TO SAY THE LEAST! I WAS FORTUNATE TO COME AWAY WITH SOME GREAT ITEMS THAT I'LL BE PLACING HERE ON EBAY A.S.A.P,. *ALL OF OUR ITEMS COME SHIPPED TO YOU INSIDE PROTECTIVE SHEETS, PLACED NEXT TO A ACID-FREE BACKER BOARD, BUBBLE WRAPPED, AND THEN PLACED CAREFULLY INSIDE A STURDY BOX OR CARDBOARD MAILER FOR EXTRA PROTECTION! COMES FROM A SMOKE FREE HOME! THIS IS A HTF KISS COLLECTIBLE!