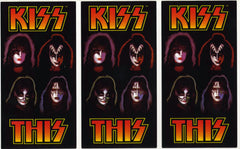 2000 KISS ORIGINAL HTF U.S. (UNUSED STRIP OF 3) "KISS THIS WINE STICKERS" MINT!
 2000 KISS MEGA-RARE HTF OFFICIAL U.S.
STRIP OF (3) UNUSED
"KISS THIS WINE STICKERS!"
 MINT CONDITION!
***EACH ONE MEASURES 5.5" x 3"!"
*PHOTO IS COVER - AWESOME!
*Original Item...No Repos!
 Item Description: This is a HTF MEGA-RARE 2000 OFFICIAL "KISS THIS" STRIP OF (3) UNUSED STICKERS!  PRODUCED IN EXTREMELY LIMITED NUMBERS BY "CELEBRITY WINES OF CALIFORNIA"! AWESOME! VERY COOL! MINT CONDITION! EXTREMELY LIMITED PRODUCTION! YOU RARELY SEE THESE AVAILABLE ON EBAY! I'VE BEEN SITTING ON THESE FOR 13 YEARS! ALL OF OUR ITEMS COME SHIPPED TO YOU INSIDE PROTECTIVE SHEETS, PLACED NEXT TO A ACID-FREE BACKER BOARD, BUBBLE WRAPPED, AND THEN PLACED CAREFULLY INSIDE A STURDY BOX OR CARDBOARD MAILER FOR EXTRA PROTECTION! COMES FROM A SMOKE FREE HOME! THIS IS A HTF KISS COLLECTABLE!