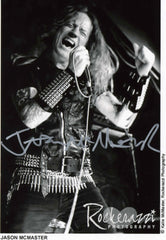 2012 RARE PERSONALLY AUTOGRAPHED "SSIK - JASON McMASTER" 8" x 10"! MINT #2
KISS 2012 PERSONALLY AUTOGRAPHED FULL-COLOR 8" x 10"
"JASON McMASTER"
Version # 2
***LEAD SINGER: 'DANGEROUS TOYS',
'SSIK',
'BROKEN TEETH',
& 'ROCK AND ROLL OVER' KISS TRIBUTE BAND
*EXCLUSIVELY SIGNED AT 'THE ATLANTA KISS EXPO' 5-20-2012
MINT CONDITION!
Item Description: This is a Mega-Rare MAY 20, 2012 "PERSONALLY AUTOGRAPHED B/W 8" x 10" OF DANGEROUS TOYS LEAD VOCALIST, AND SONGWRITER "JASON McMASTER!" SIGNED IN SILVER PERMANENT SHARPIE! VERY FRAMABLE! ONE OF THE MOST TALENTED LEAD SINGERS IN THE INDUSTRY! JASON IS A RE-PEAT SPECIAL GUEST AT OUR ATLANTA KISS EXPOS & A HUGE KISS FREAK! JASON JUST MADE AN APPEARANCE ON 'THAT METAL SHOW', AND IS CURRENTLY KEEPING 4 BANDS ALIVE IN TEXAS! MANY HARDCORE KISS FANS KNOW JASON ALSO FROM THE "SSIK" AND "ROCK AND ROLL OVER" KISS TRIBUTE BANDS! A FAN FAVORITE AT KISS EXPOS! A 100% AWESOME GENTLEMAN & GREAT FRIEND! TEASIN' PLEASIN" & "SCARED" ARE RNR CLASSICS! *ALL OF OUR PHOTOS COME SHIPPED TO YOU INSIDE PROTECTIVE SHEETS, PLACED NEXT TO A ACID-FREE BACKER BOARD, BUBBLE WRAPPED, AND THEN PLACED CAREFULLY INSIDE A STURDY BOX OR CARDBOARD MAILER FOR EXTRA PROTECTION! COMES FROM A SMOKE FREE HOME! THIS IS A HTF KISS COLLECTABLE!