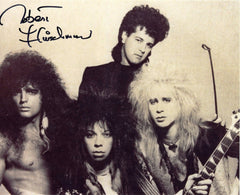 2012 KISS RARE PERSONALLY AUTOGRAPHED VVI "ROBERT FLEISCHMAN" 8" x 10"! MINT #2
 KISS 2012 PERSONALLY AUTOGRAPHED B/W 8" x 10"
"ROBERT FLEISCHMAN"
*EXCLUSIVELY SIGNED AT 'THE ATLANTA KISS EXPO' 5-20-2012
MINT CONDITION!
 Item Description: This is a Mega-Rare MAY 20, 2012 "PERSONALLY AUTOGRAPHED B/W 8" x 10" OF VINNIE VINCENT INVASION'S LEAD VOCALIST, AND SONGWRITER "ROBERT FLEISCHMAN!" ONE OF THE MOST TALENTED LEAD SINGERS IN THE INDUSTRY! ROBERT ALSO WROTE, AND SANG LEAD FOR 'JOURNEY' BACK IN 1977. ROBERT WROTE "WHEEL IN THE SKY", "ANYTIME", & "WINDS OF MARCH" WHILE WITH 'JOURNEY'!ROBERT HAS COLLABORATED WITH VINNIE VINCENT ON ALL VINNIE'S SOLO PROJECTS AFTER THE DEMISE OF INVASION. A 100% AWESOME GENTLEMAN! *CHECK OUT ROBERT'S LATEST BAND, AND CD ENTITLED "THE SKY!"  *ALL OF OUR PHOTOS COME SHIPPED TO YOU INSIDE PROTECTIVE SHEETS, PLACED NEXT TO A ACID-FREE BACKER BOARD, BUBBLE WRAPPED, AND THEN PLACED CAREFULLY INSIDE A STURDY BOX OR CARDBOARD MAILER FOR EXTRA PROTECTION! COMES FROM A SMOKE FREE HOME! THIS IS A HTF KISS COLLECTABLE!